Review Date: Jun 2019
Price: $17.25/12 ounces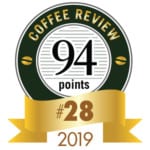 Evaluated as espresso. High-toned, sweetly tart; Bing cherry, dark chocolate, tangerine zest, honeysuckle, a hint of fine pipe tobacco in aroma and small cup. Full, syrupy mouthfeel; earthy-sweet finish. In cappuccino-scaled milk, dark chocolate is amplified, as are deep florals, while tart fruit notes round.